Watch Russ and His Crew Beat Up Smokepurpp
A video just surfaced of Russ and his crew beating up Smokepurpp.
The clip shows a bunch of guys grabbing Purpp by the throat and punching him several times. Earlier this week, Russ stopped by The Breakfast Club and said he had footage of getting into a fight with Smokepurpp or Yung Bans.
After the video surfaced, Purpp gave his side of things and said the video was taken at the Splash Festival in Germany earlier this year.
Purpp then said that he took on all of the men at once, although the clip shows him getting manhandled.
Russ responded to Purpp in the comments section.
The beef between Russ and Purrpp stems from some comments Russ made about artists taking drugs that Purpp took offense to.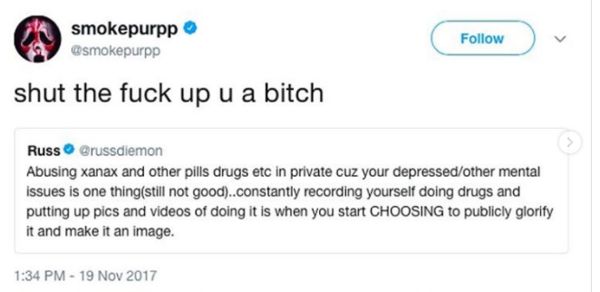 Do you think now Russ needs to give Purpp a fair fight?